Struxtion's solutions improve the commercial construction industry's inherent cashflow challenges by increasing the speed, security, and transparency of capital flowing through the ecosystem, ultimately transforming how companies receive, distribute, and manage their cash.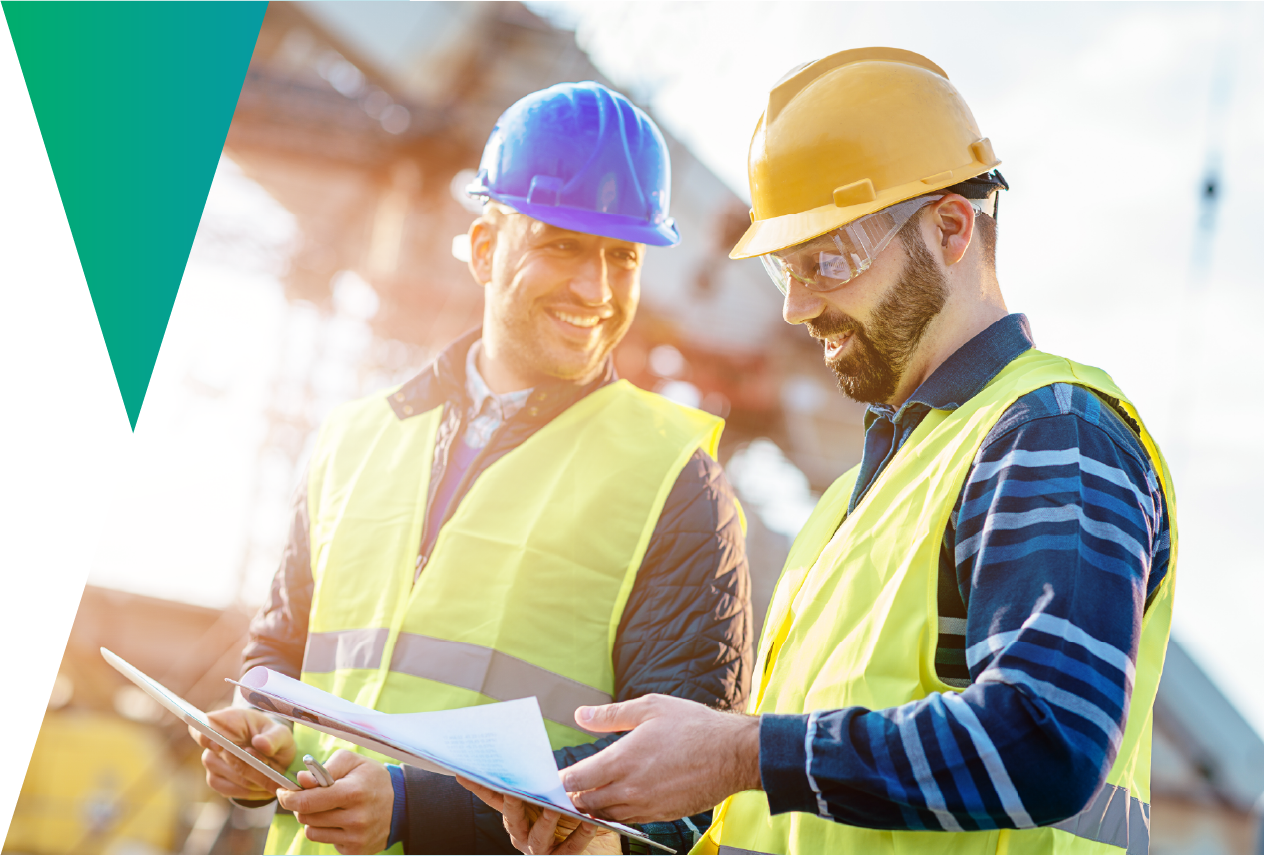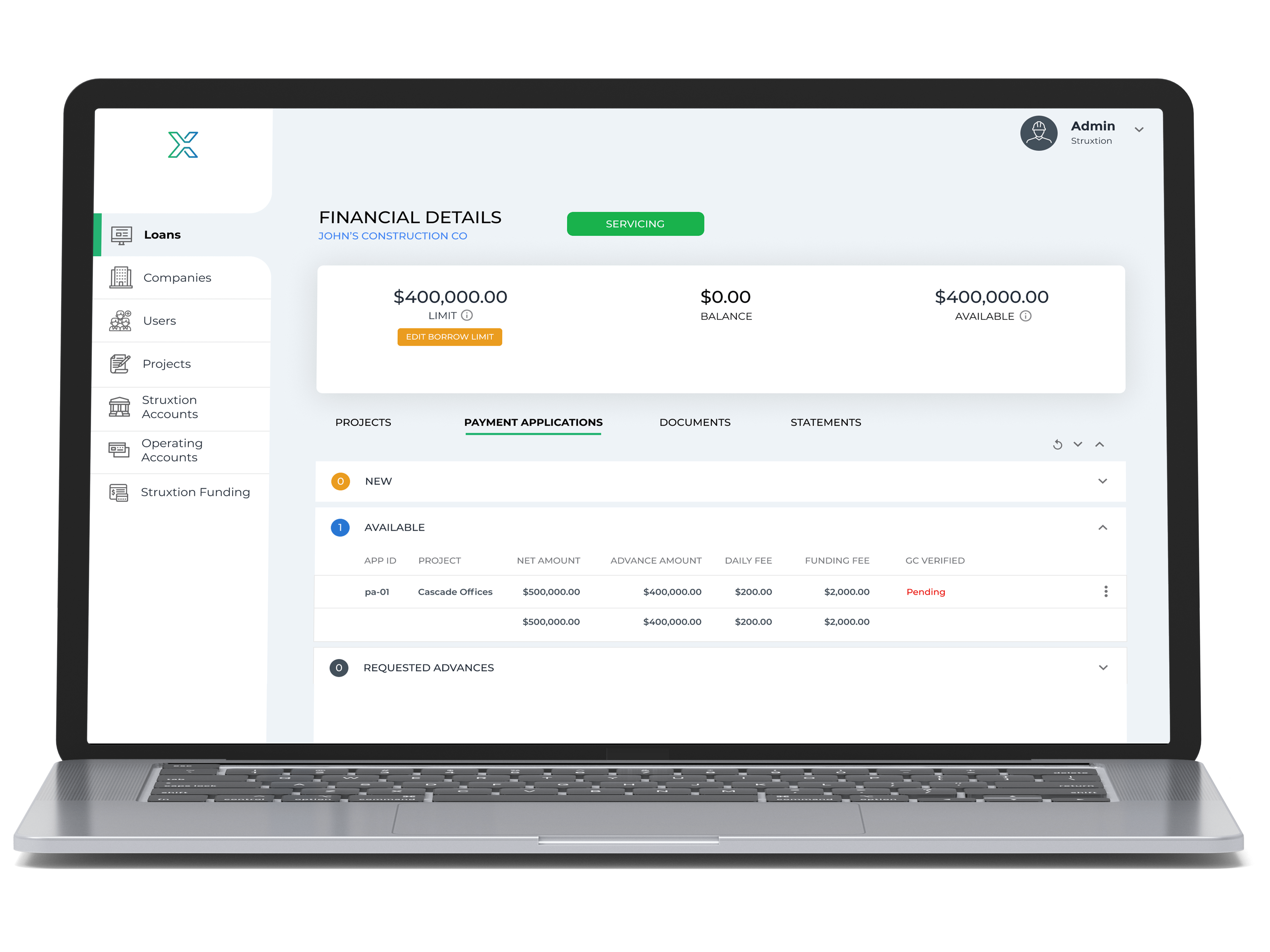 Struxtion's SaaS-based Platform has easy-to-use digital interfaces tailored to each key stakeholder's role in the construction process. Financial solutions are supported by embedded digital banking, full ACH transaction rails, third-party bank account connectivity and integrated workflow solutions such as digital signatures.
XPay leverages best of breed financial technologies to provide the simplest self-administered complete payment platform built specifically to address the challenges that General Contractors face with other 3rd party providers attempting to serve the construction industry.
Self-Administered Platform

Invite vendors and specialty contractors, create projects, assign payees to a project, initiate individual or bulk payments.
Platform provides maximum flexibility offering both electronic and paper payment options depending on the onboarding status and payee preference, allowing for payers to fully outsource the AP process.
Three easy and secure steps allow invited payees to connect to the the Struxtion platform, providing a user-friendly portal to be notified of incoming payments, sign waivers, and see payment history.
Unconditional lien waivers are triggered at the time payment is issued to the specialty contractor, and stored in the GC and contractor portal, providing an efficient and accurate collection of waivers for GCs, owners, and lenders.
Option for select vendors and subcontractors to get paid in a little as 1 day after invoice approval from the General Contractor.    
21st upgrade to traditional joint checks, payments can be triggered based on predetermined conditions being met such as lien waivers from down stream suppliers.
Best of Both Worlds: Offers digital and paper check options to payees.
All Payees: Flexibility to not only pay trade partners but to also pay vendors.
Construction Specific: Includes digital lien waivers & customizable approvals.
Speed: Digital payments can be made to vendors and specialty contractors in 24 hours.
Security: Leverages best of breed security processes such as fraud alerts, tokenized bank connections, and geofencing.
Support: Technology is great enabler, but sometimes you just need to talk to a human.
XLend provides a custom-built SaaS platform for lenders to provide working capital facilities to specialty contractors by leveraging best of breed financial technologies to support origination, underwriting, and real-time collateral management.
Simple process to create an account, upload initial underwriting information, and connect to third party bank accounts.
Step-by-process that creates efficiencies and ensures that all appropriate documents are collected for review and underwriting.
Dynamic Collateral Management
Systematic approach that utilizes embedded banking to manage advances, receive invoice verification, and adjust for changes in collateral value in real time.
Third-Party Data Integration
Access to third-party bank account information and open API's allow for continuous monitoring of borrower's stability and financial health.
On-platform ability for borrowers to open collateral bank accounts and for lenders to digital transfer funds across internal and external accounts.
On-platform Collateral Verification
Inclusion of general contractor user interface provides easy of use across all stakeholders for invoice verification, payment and documentation.
XLend Key Differentiators

Construction Specific: Lending process developed to manage risk through a series of "micro" loan advances.
Ease of Use: Simple to use system for borrowers, lenders, and general contractors.
Premium Technology Stack: Receive the benefit of the highest quality technology solution at a fraction of the cost.
Security: Leverages best of breed security processes such as fraud alerts, tokenized bank connections, and geofencing.
Customizable: Use standard off the shelf solution, or customize to your specifics needs.
Talk with one of our experts to see how easy it is to use any of our digital financial solutions.
Not quite ready for a demo?
Let's Talk